This is a basic two inverter 120 volt / 240 volt system. It has two inverters, two charge controllers, breakers, fuses, disconnects, surge supressor, and wireless monitoring from a smartphone locally. It is set up completely off grid, but uses grid power as a backup if you wish. It can be connected, or disconnected, by plugging it in, or unplugging it.
The AC panel with the door open is a dedicated solar breaker box, it can run off of solar or grid just by plugging it into the desired source. When running off of solar these circuits will be independent of grid power in case of power outage.
*Half of this system will supply you with 120 volt only at half the cost.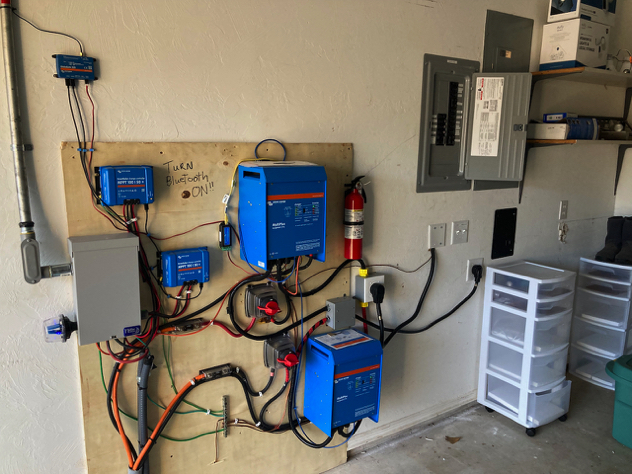 There are multiple panel mount options available. The first two pictures are of panels mounted onto a shipping container metal roof.
The second pair of pictures are of panels direct mounted onto a metal garage roof.
The third pair of pictures are of portable panels that can be stored for transport.
Custom solar power trailers can be manufactured by request.